Company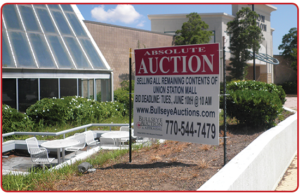 Our company is comprised of experienced professionals with a true passion for the auction industry. We understand that successful auctions don't just happen. Our success comes from the ability to identify the client's expectations and determine an assets value before moving forward. A successful auction happens when all parties have an upfront understanding of reality and are ready to sell!
Whether the auction be conducted on-site, online or a combination of both, we have the resources to capture the market, force competitive bidding and render the highest price!
With offices in Lawrenceville, GA, we have the capacity to meet your auction needs throughout the United States. When you are ready to sell, we hope you contact Bullseye Auction & Appraisal to discuss how we can get it SOLD!!
GA Auction License Numbers 3575 & 2643 and Firm Number 66940
At Bullseye Auction & Appraisal our attentive staff is available to answer all of your questions and will make every effort to ensure your satisfaction.